Home

Professionalism

Religious Beliefs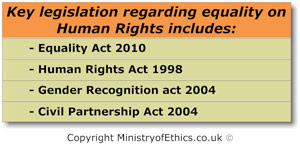 As doctors we should not allow our personal beliefs to affect our professional relationship with patients. These personal beliefs include views on a patient's age, colour, culture, disability, ethnic/national origin, gender, lifestyle, marital or parental status, race, religion or beliefs, sex, sexual orientation or social or economic status.2
There are a number of examples where a doctor's personal beliefs may interfere with appropriate patient care:
Patient care pre- and post-termination
If a woman requires medical care before or after a termination of pregnancy, a doctor is required (both legally and ethically) to provide it, regardless of his/her beliefs 4.
The completion of cremation forms
A doctor must sign a cremation form if required to do so.
Failing to sign the form may result in a post-mortem examination of the deceased and subsequent delay and unnecessary distress to the family.

Wearing clothing or other insignia of religious affiliation.

Although no formal guidelines exist on the above, it should be noted that doing so may result in difficulty establishing rapport and gaining the trust of the patient - thus creating a potential barrier to effective communication.3
Patient's personal beliefs may also affect care, the most obvious manifestation of this is seen with religious beliefs.
Essential treatment can be refused (conscientious objection); Jehovahs' Witnesses and the use of blood and blood products or non-essential intervention requested; Jewish and Islamic faiths seeking male circumcisions.
References
GMC: Duties of a Doctor
GMC: Valuing Diversity - Guidance for Doctors
GMC: Personal Beliefs and Medical Practice (March 2008)
Janaway v Salford Health Authority All England Law Rep 1988 Dec 1;[1988] 3:1079-84
GMC: Conflicts of Interest (September 2008)
Medical Act (1983)
Public Interest Disclosure Act (1998)
Health Service Circular (1999/198)
GMC: Maintaining Boundaries - Guidance for Doctors (November 2006)
GMC: Raising Concerns about Patient Safety - Guidance for Doctors (November 2006)
Kerr/Haslam Inquiry (2005)