Home

Professionalism

What is the GMC?
The General Medical Council (GMC) is a committee consisting of both doctors and members of the public.
In order for a doctor to practice in the UK doctors must be registered with the GMC and hold a licence. Under the Medical Act (1983)6, the GMC has 4 main roles:
Keeping a register of qualified doctors
Developing and encouraging good medical practice
Ensuring medical education is of a high standard
Providing a disciplinary service
What is 'Good Medical Practice'?
Good Medical Practice is defined by the GMC Guidelines Duties of a Doctor
A good doctor makes the care of his/her patient their first concern; they are competent; keep their knowledge and skills up to date; establish and maintain good relationships with patients and colleagues; are honest and trustworthy and act with integrity 1.
As doctors are entrusted with the lives and health of patients and are accountable for the decisions and actions they take, they must:
Make the care of a patient their first concern
Protect and promote the health of patients and the public
Provide a good standard of practice and care
Treat patients as individuals and respect their dignity
Work in partnership with patients
Be honest and open and act with integrity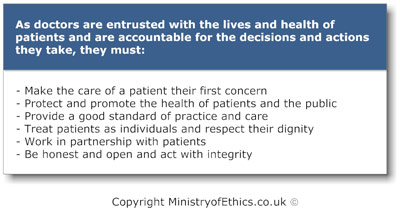 References
GMC: Duties of a Doctor
GMC: Valuing Diversity - Guidance for Doctors
GMC: Personal Beliefs and Medical Practice (March 2008)
Janaway v Salford Health Authority All England Law Rep 1988 Dec 1;[1988] 3:1079-84
GMC: Conflicts of Interest (September 2008)
Medical Act (1983)
Public Interest Disclosure Act (1998)
Health Service Circular (1999/198)
GMC: Maintaining Boundaries - Guidance for Doctors (November 2006)
GMC: Raising Concerns about Patient Safety - Guidance for Doctors (November 2006)
Kerr/Haslam Inquiry (2005)