AMEE Conference: 29th-31st August 2011, Vienna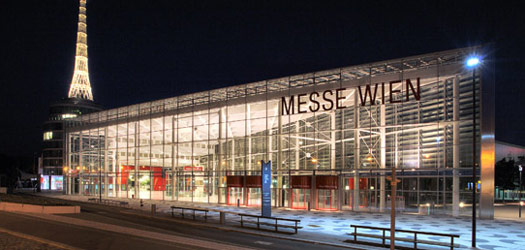 Article
Written By Mark Baxter
The Association for Medical Education in Europe (AMEE) Conference this year was in the beautiful city of Vienna, Austria (27th August-31st August). Alana Brown-Kerr, Anna Allan and I flew over on the Sunday morning in time to register for the evening. The registration was followed by the welcome in the Plenary Hall and what can only be described as an incredible feast!
Our Ministry of Ethics (MoE) group were presenting both a short communication and a poster. Our presentation focussed on how the website has progressed since we first presented at the Institute of Medical Ethics conference earlier this year. In particular, we included improvements made to our video production, expansion of our interactive MCQ section, and improving compatibilities of the site for use with mobile devices. The presentation was produced by the original MoE creators Jacky and Phil, but unfortunately the newly qualified medics were unable to take leave on the dates of the presentation.
We presented on Monday morning in front of around 60-70 people from a wide variety of international destinations ranging from Edinburgh to Thailand. This enabled us to not only see what other students/doctors/medical educators were doing throughout the world but also to receive constructive feedback on our project. The response to our presentation was extremely positive with widespread applause and a number of interested parties asking question both during the session and then afterwards.
Our poster, based on the creation of and feedback to our sister website medicshandbook.com as well as MoE, was presented on Tuesday morning in front of around 30 doctors and professors. The session was chaired by a leading medical educator from Dundee who showed a great degree of enthusiasm for our project and questions from the group were similar to those received after our presentation. Interested UK universities included Dundee, Glasgow, Newcastle and Sheffield.
Throughout the rest of the week we looked at and attended various short communication sessions, workshops and poster presentations. The key educational message that emanated was that e-learning is the future and work should be targeted towards this - for us this was a very encouraging theme.
AMEE provided us with the opportunity to reacquaint ourselves with old friends as well as network with leaders in medical education throughout the world. This networking even included an invitation to an evening party held by USMLE delegates in a flat in the Innerstadt region of Vienna. Here we mingled with educators from the USA, UKCAT representatives and even a UK publisher - all of whom were very interested in the Ministry of Ethics brand.
Overall we feel the AMEE Conference was a highly beneficial event both for us and everyone else who attended. We hope that the contacts we made will enable us to further develop the Ministry Of Ethics brand as well as publicise it.
If you have any further questions, please don't hesistate contacting the Project Leaders:
Phil phil@ministryofethic.co.uk
& Jacky: webmaster@ministryofethics.co.uk


Comments
This section contains comments by all users of the site. Please read our disclaimer
No one has commented here yet.
Login or join for free to post comments!